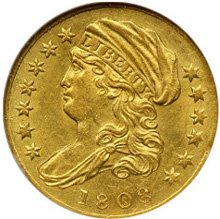 The 1808 Quarter Eagle has the distinction of being a one year type coin with an extremely limited mintage. Demand for the issue is high from U.S. gold type set collectors as well as quarter eagle specialists.
The coin had a limited production of 2,710 pieces, all of which were delivered on February 26. After this year, no more quarter eagles would be struck until 1821 when the denomination was produced with a modified design.
From the original mintage, it is estimated that only 50 to 60 pieces still exist. . Most will show at least some circulation wear, or are heavily marked from contact with other coins. Many others that are known to exist have been cleaned, or will display other problems. There are a number of examples included in the population reports at the AU58 grade level, although this is presumed to include many resubmissions.
The finest known 1808 Quarter Eagle is considered to be graded MS64 and was sold in the mid-1980's for about $100,000. More recently an example graded PCGS MS63 was sold at auction in March 2007 for a price of $425,000.
This issue represents a true trophy coin, which could be the highlight of any major collection, and a very difficult type coin to acquire in any grade.