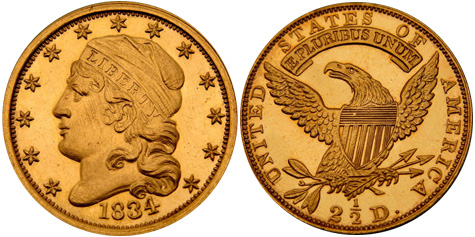 Considered to be the last quarter eagle which falls in the category of "old tenor gold coins", the 1834 Quarter Eagle "with motto" is the last issue struck with the old specifications.  Subsequently, the weight of the quarter eagle would be reduced, leading many of the older coins to be melted.
This issue had an estimated mintage of 4,000 coins, which had been the typical level for recent prior years. However, melting took a heavier toll on the 1834 quarter eagle, as perhaps 20 pieces are still known to exist in all grades. Some of the known examples are Proofs, perhaps struck as a memorandum to the final coin of this design. As a date, it is considered to be the rarest of all 1796 to 1834 quarter eagles, although some varieties have even less pieces known.
This is one of the most difficult dates to acquire, of this denomination, seldom being offered and always in demand in any grade.