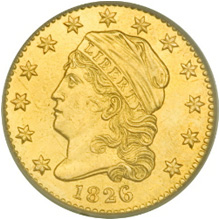 The 1826 Quarter Eagle has the lowest mintage for this type, with production indicated to be 760 pieces. This would make it one of the few American gold issues of the 19th century with less than 1,000 pieces produced. Some sources have suggested that the actual mintage of quarter eagles bearing this date may have been a little bit higher.
All of the coins were delivered on March 31, and in earlier times were believed to have been struck from an overdated (1826/5) obverse die. It is now believed that this is not an overdate, but only a repunched date (1826/6). Discussion still exists regarding this fact, and a true conclusion might never be found.
This issue is rare in all grades, with perhaps 30 to 35 pieces believed to still exist in all grades. While this might appear as an extremely small number, coins of this type are usually just as rare. Its low mintage has made it very popular, and examples are seldom encountered at public auction.
An example graded NGC AU 58 Proof Like sold at auction in January 2010 for $40,250.