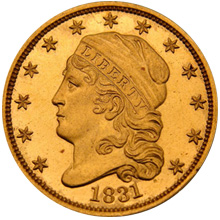 The mintage levels for Capped Bust Quarter Eagles remained extremely low across the various types or subtypes included between the years 1808 to 1834.
The mintage for the 1808 Quarter Eagle was 2,710 pieces. This was not as low as subsequent years, but the status of the issue as a one year type coin provides greater demand from both type collectors and quarter eagle specialists.
After a gap in the series, production resumed with an altered design. The issues from 1821 to 1827 had mintages ranging from a high of 6,448 to an absolute low of 760, although some references suggest this number may have actually been a bit higher.
From 1829 to 1834, the coins were struck with more modern machinery and carried a reduced diameter. A relatively steady average production of around 4,000 pieces per issue was maintained during this era.
| Issue | Mintage |
| --- | --- |
| 1808 | 2,710 |
| 1821 | 6,448 |
| 1824 | 2,600 |
| 1825 | 4,434 |
| 1826 | 760 |
| 1827 | 2,800 |
| 1829 | 3,403 |
| 1830 | 4,540 |
| 1831 | 4,520 |
| 1832 | 4,400 |
| 1833 | 4,160 |
| 1834 with motto | 4,000 |